by chris on Jun.13, 2011, under general
Following up on this post of mine:
TPM: Facebook Founder: Public's Worries Over Privacy Are Overblown:
Facebook Founder Mark Zuckerberg said Wednesday that the media and the public have unrealistic, schizophrenic expectations of the social network because they praise it for enabling social revolutions at the same time as they bash it for invading their privacy.
At the same time as:
TPM: Facebook Hires Two Former Bush White House Aides:
Facebook has hired two former White House Bush aides to help it to better influence the debate raging in Washington right now over how privacy regulations should be overhauled in the age of social media.

Facebook says that [new hire Joel] Kaplan will oversee its public policy strategy…For his part, Kaplan, a Harvard Law School graduate and former law clerk for Supreme Court Justice Antonin Scalia, worked with Bush to enact the USA PATRIOT Act.
Mark Zuckerberg: blowing off privacy concerns while hiring one a Scalia acolyte and one of the architects of the PATRIOT Act to guide your public policy?
He is a liar.
e: or, as the SNL clip put it,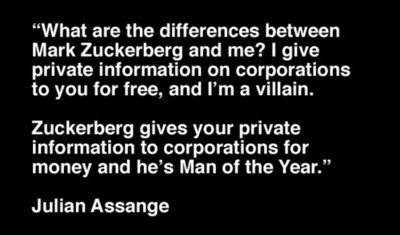 No comments for this entry yet...